In August of 2022, Zeinas Quick n' Easy Basmati Rice and Zeinas Salad Cheese got sent out to thousands of homes in Sweden together with the subscription service Smakbox, and we are super proud of the result.
Smakbox is one of Sweden's biggest taste subscription boxes for food and beverages. Every other month, their subscribers receive a box filled with different food-related products.
25 200 of Smakbox subscribers tasted Zeinas Quick n' Easy Basmati rice, and 65 percent of the tasters gave the rice the highest rating in its category – which also led to the rice being awarded with "Toppbetyg" (translates to 'highest rating') from Smaxbox within the rice category.

Zeinas Quick n' Easy products were created to make everyday life easier, and we are incredibly happy that the reviews from Smaxbox's subscribers reflect this:
Nice packaging, simple instructions and a finished product in only minutes! Yummy!
Simplifies the cooking process and the rice is delicious!
Super easy, time-saving and tasty too!
Zeinas Salad Cheese was tested by 26 700 tasters and a whopping 74 percent gave the product the highest rating. This led Zeinas Salad Cheese to be one of the most popular products in the subscription box and the cheese was also rewarded with "Toppbetyg" by Smakbox.
The repurchase and recommendation rates were also impressive for both products, as they were higher compared to other similar products within their categories.

"We are incredibly pleased and proud of the results, and it feels great that Zeinas' products are appreciated by their consumers", says Pernilla Tang, Project Manager Marketing & Brand at Evanoff Group.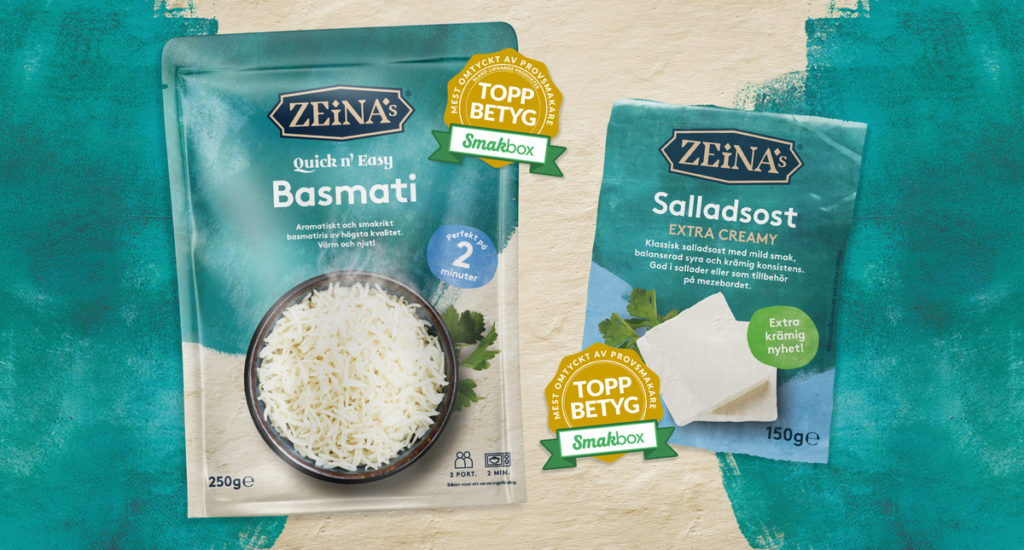 For further information, press photos or sample requests, please contact: Ken Nygren, Head of Marketing & Assortment at press@zeinas.se
About Zeinas
Zeinas is a brand launched in the spring of 2020 by food profile Zeina Mourtada together with Evanoff Group. Zeinas assortment consists of products that focus on the different cuisines of the Middle East. Today, Zeinas products are available in thousands of grocery stores, e.g. ICA, Coop, Hemköp, Willys, City Gross, Mathem.se, Foodora, Delitea.se and others.
About Evanoff Group
Evanoff Group is an entrepreneurial corporate group focused on primarily investing in, and operating small to mid-sized companies in the food industry.

Evanoff Group's model is based on combining committed and driven entrepreneurs with excellence, experience and networks. Creating a strong foundation to take portfolio companies to the next level.